Tue, September 28
Way too many new shows last week – I nearly reviewed Outsourced sight-unseen – but I definitely didn't have time to watch every episode of my returning shows, so there are a few things I'm catching up on, now that the schedule has settled down a little bit.
Community
I can't believe nobody called me on it when I completely misremembered the ending of last season. Jeff didn't end up with Britta or Slater. His kiss with Annie nearly satisfied the romantic ending I demanded, but obviously it isn't like they ended up together. (As satisfying as that would be, it would obviously never work.) Fortunately the new episode supported my memory better than the actual episode my memory was based on. And then was awesome in, like, 26 new ways.
30 Rock
I think I'm going to forget about Amy Ryan's Holly pretty soon if Matt Damon's Carol keeps sticking around. He's unbelievably fun (and, guys, you should've seen his brief appearance on Entourage a couple of seasons ago – I completely understand if you take a lot of pride in not watching that show, and if it weren't for Piven's fantastic work, and the fact that smug pricks like Seth Rogen take a lot of pride in not watching that show, I'd be right there with you, but the Damon scenes were ...mmm! magnifique!). Excellent Jack/Liz stuff this week. Even a good Jenna story, which is rare. Good all around, but still +2 Melonis for a throwaway line about wig costs in a budget meeting – isn't the parent company still Sheinhardt Wig, at least until the buyout?
Eastbound & Down
Reading this epic article about the upcoming season, you get the impression that the show's creators are so busy sucking each other's dicks and celebrating how much funnier they are than everyone else who's made a movie since 1970 that they don't have any time to make a TV show. But fortunately, the Eastbound & Down season premiere speaks for itself: Deep Roy being a tiny little badass as only he can; McBride as jacked-up and un-self-aware as humanly possible; and a spicy latina singing a Spanish-language version of Bob Seger's "Night Moves" in a Mexican dive bar. Maybe those guys are right about how awesome they are.
Hellcats
The third episode has worked the Star Trek Kobayashi Maru test into a tertiary story line. This is now the best show of the new season. (I'm not going to pretend I had any idea what Kobayashi Maru was before reading some geek's write-up of last year's Abrams Star Trek movie, but fitting it into a cheerleading show is still a stroke of genius.)
The Increasingly Poor Decisions of Todd Margaret
Has been renamed Todd Margaret, apparently. It still begins at 10pm on Wednesday. My theory holds that the zanier the title, the unfunnier the show, so this should be a good change – but I don't know if that kind of adjustment can be effective a week before broadcast. We'll see!
0 comments with related links
Mon, September 27
It's Season Premiere Week! I hope you watched all the right shows. If you don't, they stop makin' 'em! (Read more.)
7 comments with related links
Mon, September 20
The Annual TiVo Gauntlet of New Fall Programming is gearing up, and Steve Buscemi and Jimmy Smits are competing to be the biggest badass. (As opposed to competing with those big vinyl American Gladiator Q-tips, which would be way more awesome.) (Read more.)
8 comments with related links
Fri, September 17
As we launch into the new fall season, a look back at the best of last year (most of which did not occur during the fall season at all). (Read more.)
0 comments with related links
Wed, September 15
I would say "better late than never," but I wouldn't want to imply anything about the quality of this fall's new shows or my writing about them. (Read more.)
3 comments with related links
Wed, September 8
Pixar has suspended development on their upcoming film Newt – sad news because now two out of their three announced projects are sequels. Nevertheless, their near-perfect track record compels us to have faith that all will turn out well. Surely this was done for the right reasons (not just because they didn't like the idea of being associated with that other Newt 2012), and all available resources have been devoted to some other secret project that will be even better.
Thanks to Pixar's Facebook page, you can look at some beautiful concept art from the canceled project. Truly special and inspiring stuff.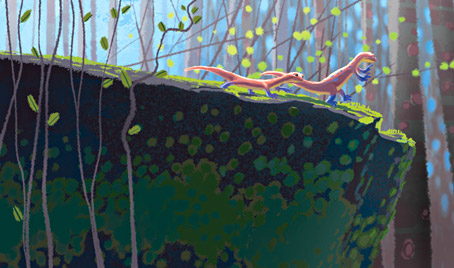 0 comments
Fri, September 3
Sometimes in order to get the shot right, you have to wade through stuff like this...
I'll show you more of this as soon as I can, but right now it's a mad dash to the finish line (which is nine days away, but in some ways it feels more like one-and-a-half, because I only get one more critique on this assignment). Needless to say, I've never been more stressed out.
0 comments with related links